I'm loving this recipe! Years ago I used to eat ginger beef and noodles like this but they were covered in oil and who knows what else!
Feel free to add or subtract ingredients or quantities depending on your tastes. We often wing these recipes, the exact amounts don't really matter.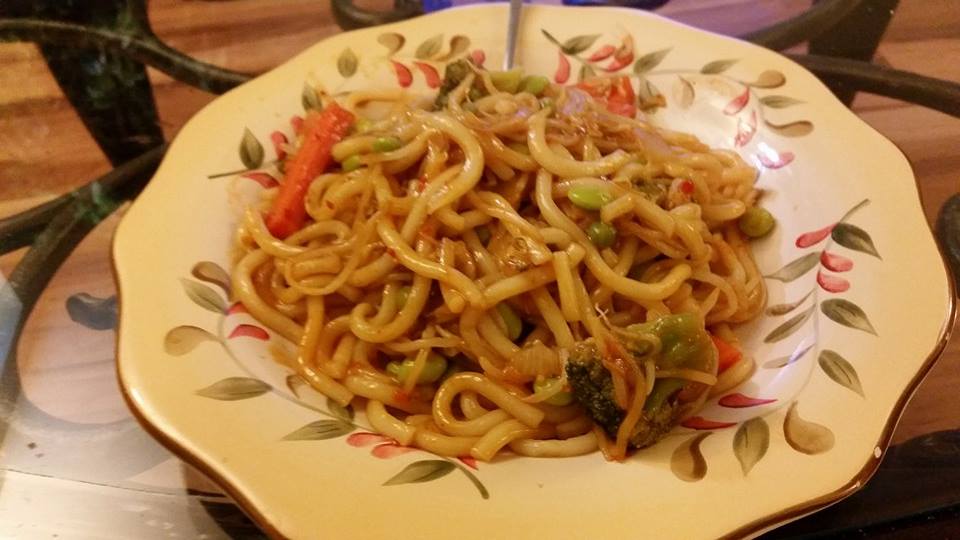 This was enough for 2 of us as we love our starches!
Ingredients:
1/2 cup edamame (frozen)
1/2 frozen peas
2 medium size carrots peeled and chopped (we make short strips as seen in photo)
2 cups broccoli florets (frozen)
1 chopped yellow onion
1 cup chopped celery (optional we forgot to do this)
3 tbsp sweet thai chili sauce
2 tbsp sriracha (used 3 tbsp the first time, too hot! adjust to heat preferences)
1 tbsp soy sauce
Up to 1 package of precooked udon noodles (I use President's Choice, contains 4 packs and is total 800 g, we used 4 the first time and 3 the second which was fine. You need enough starches for satiation.)
2 cups of bean sprouts
1/2 cup water
1/2 tbsp vegetable stock powder
Mix the water with the vegetable stock powder (or use 1/2 cup vegetable broth) and add to heated skillet on medium heat along with peas, onions, edamame, onion
Cook the carrots separately since they take longer (we use the microwave or you can steam them)
When veggies are soft add the noodles, bean sprouts, chili sauce, soy sauce and sriracha and turn up heat to high for about 3-5 minutes. Stir everything to make sure the noodles are coated and everything is distributed. The high heat will caramelize some of the sugars from the sweet chili sauce. Keep stirring so nothing burns. You'd swear the noodles are covered in oil as they are so slippery smooth!